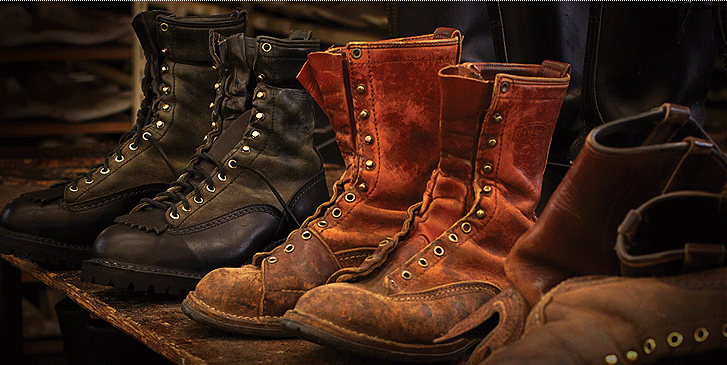 Boot Rebuilding
W

ell-worn Wescos* can be brought back to life for substantially less than a new pair, adding significant value to your boot investment. Once we receive the boots, we give them a thorough inspection and the process begins. We replace the heels, outsoles, midsoles, insoles, shanks, counters, vamps, laces, false tongues, and rotate the eyelets. Because the boots are re-lasted during the rebuild process, we can resize or make minor alterations to accommodate any changes in your feet.

* We only rebuild Wesco boots. Occasionally, we get a pair of boots that are simply past the point of rebuilding.
Rebuild limitations:
ASTM EH standards prohibit the rebuilding or repair of an Electrical Hazard boot. Therefore, to rebuild our VoltFoe boot, we must change the style to either a Highliner or Jobmaster. You may elect to have the boots rebuilt with or without a safety toe.
The JH Classics, Romeo and Robert William are limited to outsole/heel replacement only.
---
Weeks to completion: 
Approximately 5 weeks
---
---
Send your boots to: 
West Coast Shoe Company 
Attn: Boot Rebuilding Division 
52828 NW Shoe Factory Lane 
PO Box 607 
Scappoose, OR 97056-0607
---
Direct Customers: 
Please enclose a letter with your name, address, phone number, email address (if you have one), and any additional instructions you may want us to follow.
---
Dealers: 
Please include required rebuild information form with boots. Contact us for current price.
---
For further information: 
Toll Free 800-326-2711 ext. 207 (U.S. & Canada) 
503-543-7114 ext. 207 (Outside U.S. & Canada) 
Email: rebuild@wescoboots.com

http://www.wescoboots.com/wesco/video.asp?VT=dvd_&VK=3